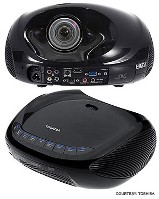 New Projector Technologies are Now Available For Use In Projector Rentals


DVD, HD-DVD, and Blu Ray players are currently being integrated straight into traditional LCD projectors. These technologies are now available and widely used during conventions, tradeshows, conferences and events for their enhanced picture quality and overall ability to attract large audiences.



New Wireless Projectors are using 802.11g Technology which allow a computer user to wirelessly connect to PDA's, laptops, and computers, and display information from these computers onto a video or projector screen. This technology also has the ability to connect with one PC to many Projectors, and many computers to one projector offering a wide variety of display and presentation techniques.



Large Venue Projectors are now available for cases when large audiences and venue sizes demand the most powerful projectors on the market. When displaying an image to a large audiences, on average it is recommended that a projector display 4500 to 25000 Lumens, depending on the magnitude, scale, and setting of your presentation.

If interested, all of these technologies listed above are also available in a
Projector Rental
.