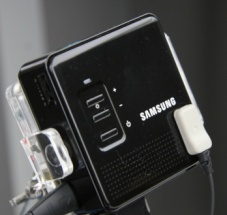 Samsung has taken the next step in innovative mobile technology and has created the MBP Micro Projector. This little gadget projects a 10 ansi lumen beam and comes in a box measuring 2.8x2.8x2.1 inches, about the size of a cigarette pack, and produces an image that can reach up to 50" in size.
The MPB 100 has an approximate battery life of 3 hours and can run the length of a movie before needing to be recharged. These Micro Projectors have already become available in South Korea and the model is expected to reach Europe and the United States soon with a $200-$300 price tag.
Heres a
video
to see the Samsung MBP Micro Projector in action.