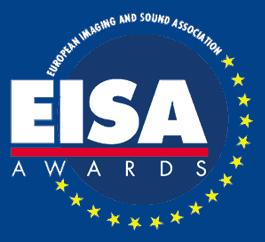 JVC's DLA-X7 home theater projector was the recipient of the annual EISA (European Imaging and Sound Association) award. Being one of the first projectors to achieve THX 3D certification, the DLA-X7 boasts several impressive attributes. This projector offers an incredible 2D/3D experience with an astounding 70,000:1 native contrast ratio and a bright 1300 ANSI Lumens. Designed for use with 3D active shutter glasses, the DLA-X7 enables consumers to enjoy a full 3D experience while allowing for variety in choosing screen types. Additionally, this award winning projector has a powerful color management system, video processor and custom gamma control.
EISA is a collection of 50 magazines from 19 European countries, the winning products are chosen by the editor-in-chief of each magazine. Any product covered by the magazines during the past year are eligible to recieve the award.
EISA has created a short video clip about the DLA-X7
to honor JVC's achievement this year.
Source: EISA - European Video Projector 2011-2012 - JVC DLA-X7