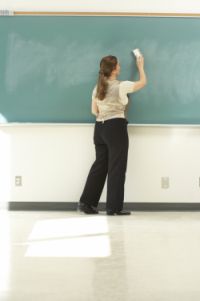 These days as technology continues to expand and projectors become cheaper, many classrooms and auditoriums are starting to buy projectors for educational purposes. Projectors are ideal to have in the classroom as they are the most versatile when compared to chalk boards and white boards. Because most schools constantly find themselves on a tight budget or short on funds, we'd like to give you a few tips to give you're projector the best bang for your dollar.
First off, for use in a classroom you are going to need a bright, high-contrast projector that everybody in the room is going to see. The typical ANSI lumens recommended for a K-12 classroom is 800-1500, for universities and auditoriums you would want something around 2000-2500 lumens. When looking for the ideal contrast ratio needed for your classroom, it all depends on what you will be using your projector for. A contrast ratio of 500:1 is plenty if you are simply displaying text documents, power point presentations, or other static image data. However if you are going to be displaying video content, you are going to want something with a much higher contrast ratio.
The next thing you are going to want to consider for your projector is the resolution. Obviously it would be a waste of money to buy a full
1080p projector
for use in a classroom, but just what is a good resolution? The typical SVGA (800x600) resolution is perfect for nearly all K-12 classrooms and will save you money when compared to buying higher resolution XGA or SXGA projectors. Also buying higher resolution projectors will less light output for the same price.
You should also consider the weight of the projector you are looking to buy. Some projectors weigh as little as 5 pounds, and while extremely convenient these come at an additional price. For classroom use, unless you plan to constantly move your projector, a heavier and bulkier projector will work just as well and can be less expensive. Selecting a projector that weighs about 20 lbs will give you reasonable portability and will save you money compared to the much lighter designs.
You should also pay attention to the bulb life of the projector you are looking at buying. Projector bulbs can cost upwards of $200 to replace and most projectors have a bulb life of about 3,000 hours. It may also be beneficial to run your projector in economy mode to preserve bulb life.
Short term
Projector Rentals
are also great for classroom-like settings where you are traveling to give a presentation in a conference room or auditorium.