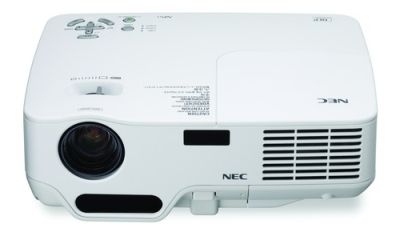 NEC announced this has introduced two new projector models. Weighing at a remarkable 3.5 pounds the new NP41 and NP61 are better known as mobile projectors. With the dimensions of 9.7x7.1x2.9 in the two new mobile projectors are considerably smaller and lighter than most new projectors of today.
The two new mobile projectors are aimed at people wanting to take the mobile projector with their laptop on the road. These mobile projectors though are on the same level of quality as home theater projectors with a brightness of 2,300 and 3,000 Lumens and a contrast ratio of 1,600:1 with a 1024x768 maximum resolution.
The only difference that we could find between the 2 projectors seems to be the brightness with the NP41 having 2,300 lumens and a price of $999 compared to the NP61 having 3,000 lumens and a price of $1,399. Expect to see these two mobile projectors out early this fall.