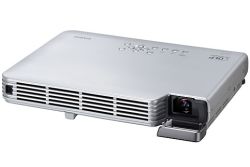 Soon a new breed of projectors will be bringing new meaning to the term "portable projector". Coming in September projector manufacturer Casio is updating its line of SuperSlim projectors with many new features including wide-screen. Yes you heard me right. Widescreen and SuperSlim all in one package.
The Casio XJ-S68 and XJ-S63 are two of the brightest projectors coming to the worlds thinnest projector line. These new SuperSlim projectors are 43mm at their widest point and 32mm at their slimmest, and best of all - they are respectably bright. With 3500 lumens these projectors are perfect for most presenters and would even be a contender for use with larger groups. They can also project from as little as 3 feet up to 30 feet away. They also weigh under 4 pounds.
Other features these new Casio projectors include are 2x power zoom and focus lens; automatic and manual vertical keystone correction; RS-232 control; 1 watt mono speaker; and security features including a kensington lock and power on password. The XJ-S68 and XJ-S63 are built on the same chassis but the XJ-S68 has a USB port that can be used for wireless connectivity. As far as the widescreen model goes, Casio has added the XJ-s43W as its first widescreen superslim projector. This projector sports 2500 lumens, an 1800:1 contrast ratio, 2X zoom lens, 1280 X 800 video output, HDMI input, and direct power on/off.
This new line of SuperSlim Projectors is expected to ship in September 2009.