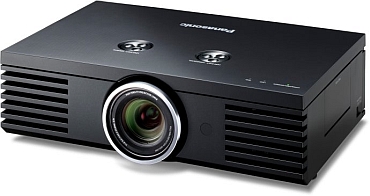 The Panasonic PT AE3000 is one of the best 1080P Projectors to date and it has a price tag to mach it. With the stunningly low cost of $3,499, Panasonic has set a whole new bar on pricing a top quality 1080P Projector. Where today's market consists of $10,000 1080P projectors Panasonic is able to contend and if not beat them with a price tag of only $3500. So to start this review here is a quick list of the specs of the new Panasonic PT-AE3000:
Cost:
$3499
Lumens Output:
1600 Lumens
Contrast Ratio:
60,000: 1
ANSI Contrast Ratio:
446: 1 (Sounds low, but is in fact the highest contrast ratio to date on a LCD Projector)
Video Compatibility:
1080P
Native Screen Ratio:
16:9
Connection Panel:
Three HDMI 1.3 ports, one 15-pin VGA input, two sets of 3-RCA YPbPr component video, one composite video, one S-video, one 9-pin D-sub serial (RS-232c).
Well now that we know a little bit more about the specs on the projector lets talk a little about the numerous features that come with it. One new great feature is it comes with a new lens memory that can easily convert 16:9 widescreen format to the 2.35:1 format. It also comes with a new feature called side-by-side comparison. This feature is really amazing because it lets you tweak an image so that it looks better and when you are done you can compare it to the original image to see if you like the changes you have made. Also a feature that Panasonic is famous for is their smooth screen filter. Projectors are notorious for having pixilation problems, but smooth screen filter removes all signs of pixilation. These are just a few of the best features that come with the new Panasonic PT AE3000.
The Panasonic AE3000 is a must buy for anyone who wants the best projector. Everything is great on this new projector. I cannot find one true flaw about this projector. Everything is great about the AE3000 from the price, to the specs, to the features, and it even looks great. What more can you ask for in a home theater projector.