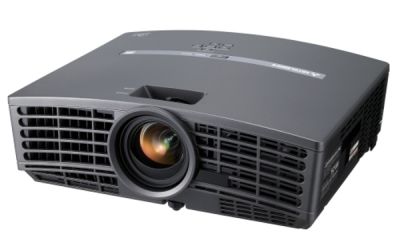 Mitsubishi has once again built an amazing new projector for a very cheap price. The HC1600 Projector is a high quality 720p DLP HD home theater projector with an amazing price of under $1000. You will be able to see true HD images with 1700 Lumens, 2500:1 contrast ration, native 720p format display, and all in a quiet projector that you can barely even hear running.
Some great things about the HD1600 is with 1700 lumens you will not have to worry about this projector not having enough lumens. Also the HC1600 has very good color balance and grayscale tracking for the price. The price is the best thing about the projector. Seeing an HD 720p Projector in today's market for under $1000 makes this a great buy especially when you compare it to the cost of a giant plasma screen or to the 1080p projectors.
On the downside this projector is quite known to produce slight rainbow effects on dark scenes. The rainbow effects make it not a good projector for gaming and watching sports games. Another problem which is around for most projectors though is the price for a replacement bulb which will set you back almost $400.
All in all the Mitsubishi HC1600 is a great entry level projector for anyone who wants a great projector, but does not want to put a huge hole in their budget.
Need a projector rental for a conference or a tradeshow? Visit our
projector rentals page
for a fast easy quote.